Researchers in the EU are about to have a new legislative framework to access and study data held by platforms and search engines in the form of Article 40 of the Digital Services Act (DSA) – a major milestone in platform regulation history expected to have spillover effects worldwide. As part of the Thursday Lunch Talk Series, Jakob Ohme (WI) and the Methods Lab jointly organized a talk to gain more insight into what this Article 40 means in the context of German law, and the consequences it might have on researchers' access to platform data. Tupperware and brown paper bags in hand, hungry participants gathered in the Flexraum to listen to Jakob give the ABCs of the EU's new data access regime and discuss some of its opportunities, limitations, and grey areas.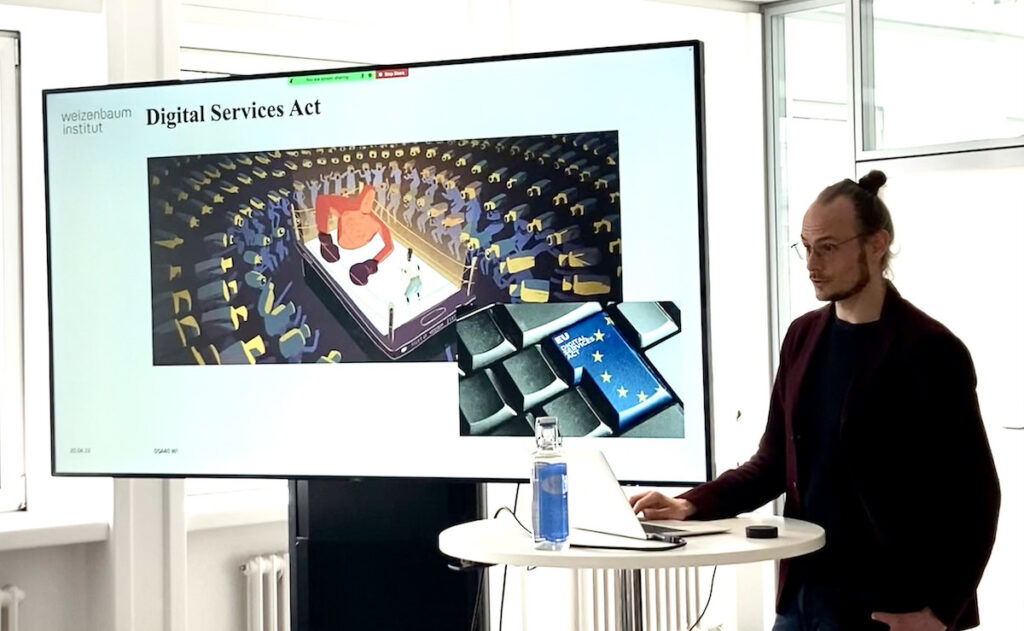 Here is a quick summary of Article 40:
Providers of very large online platforms (VLOPs) or search engines (VLOSEs) shall provide access to data necessary for monitoring and assessing compliance with the DSA, at their reasoned request and within a reasonable period specified in that request, access to data necessary to monitor and assess compliance with this regulation.
Data accessed can only be used for monitoring and assessing compliance while taking into account the rights and interests of the platform providers, service recipients, personal data protection, and the security of their services.
Platforms must explain the design, logic, functioning, and testing of their algorithmic systems, including recommender systems, upon request.
Vetted researchers can request access to data to conduct research on "systemic risks" in the EU and assess risk mitigation measures.
Within 15 days, platforms can request to amend a data access request as referred to in §4 if:
(a) they do not have access to the data
(b) giving access to the data will lead to significant vulnerabilities in the security of their service or the protection of confidential information, particularly trade secrets.
Requests for amendment pursuant to §5 should propose alternative means for providing access to appropriate and sufficient data.
Platform providers or search engines shall facilitate and provide access to data pursuant to §1 and §4 through appropriate interfaces specified in the request, including online databases or application programming interfaces.
Researchers can be granted the status of "vetted researchers" if they meet specific conditions, including affiliation with a research organization, independence from commercial interests, disclosure of research funding, capability to fulfill data security requirements, and commitment to making research results publicly available.
Researchers can submit applications to the DSC of the Member State they are affiliated with, who conducts an initial assessment before forwarding the application to the DSC of Establishment for a final decision.
The DSC can terminate data access for vetted researchers if they no longer meet the conditions. The coordinator must inform the platform provider and allow the researcher to respond before terminating access.
DSCs must inform the Board about vetted researchers and their research purposes. If access to data is terminated, they must also inform the Board.
Platforms must provide timely access to publicly accessible data, including real-time data, to researchers who meet the conditions and use it for research on systemic risks.
With input from the Board, the Commission will adopt delegated acts to specify technical conditions for data sharing, including with researchers, while considering the rights and interests of platforms and service recipients, protection of confidential information, and maintaining service security.
Both presenter and the audience highlighted several aspects regarding the infrastructure and implications of the article, which made for a vibrant, fruitful discussion. One question focused on the effort platforms would need to make in order to prevent researchers from acquiring data (§5). Though making a projections at this point in time is challenging due to the remaining unknowns, lawyers predict that platforms will try to prevent researchers' access to data more for certain areas than others. One such area could be questions pertaining to algorithms, which would fall under the so-called "trade-secret exemption." Another topic of discussion was the "systemic risk research" requirement (§4). More specifically, what do we mean when we speak of systemic risks? As a term that can be understood very widely, it would be possible, hypothetically speaking, to file a request as long as one can argue for a broader understanding of it.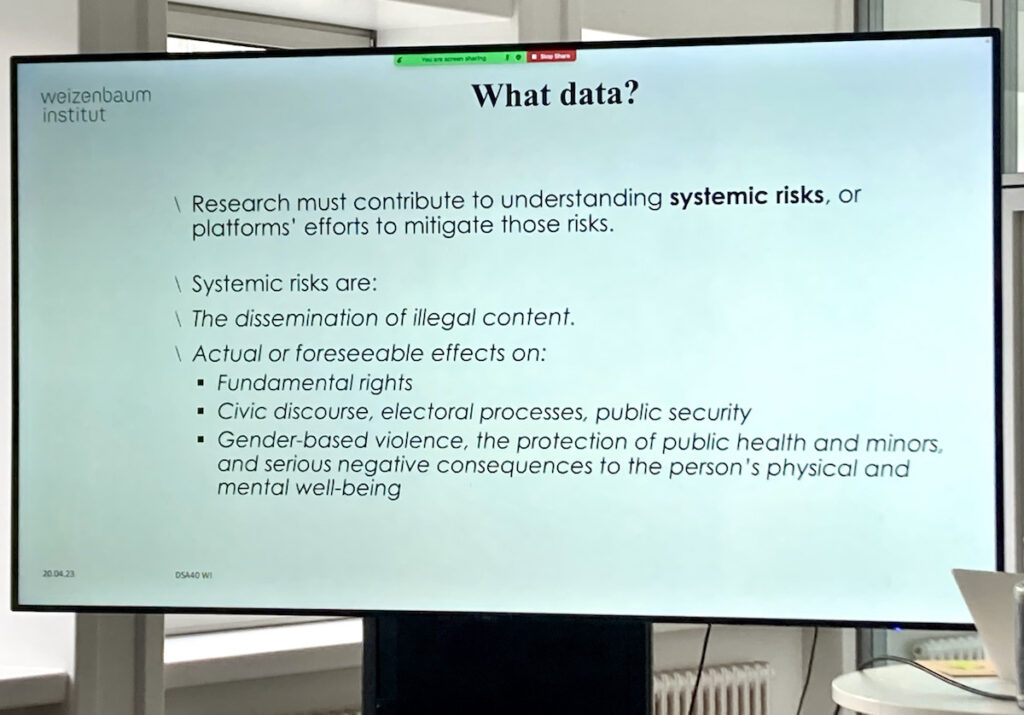 Some details regarding the data vetting process and its implementation remain unclear, such as the establishment of an independent advisory mechanism and the technical conditions under which it would operate. Most of the largest platforms and search engines are based in Ireland, so the DSC of Establishment tasked with vetting researchers will likely be the Irish DSC in many cases. Researchers can also send their applications to their country's national digital services coordinator. In terms of regulatory oversight in Germany, it is anticipated that the Bundesnetzagentur will play a significant role as the DSC regulator. The future German DSC will be able to provide an opinion about whether to grant a data access request, but the final decision will remain in the hands of the Irish DSC.
DSCs are yet to be appointed by EU member states, and complex vetting may require an independent advisory body responsible for this task. However, the establishment of an independent advisory mechanism comes with its own set of challenges. How much power will the board have? And how will the board make its decisions? During the talk, the difficulty of dealing with and assessing raw data when one does not know what to look for was identified as another potential issue. An alternative model could involve access to publicly accessible data without vetting. This approach would be similar to what the Twitter API has provided in the past, and it may prove to be an exciting option for fueling research, primarily if implemented in real-time and through application programming interfaces.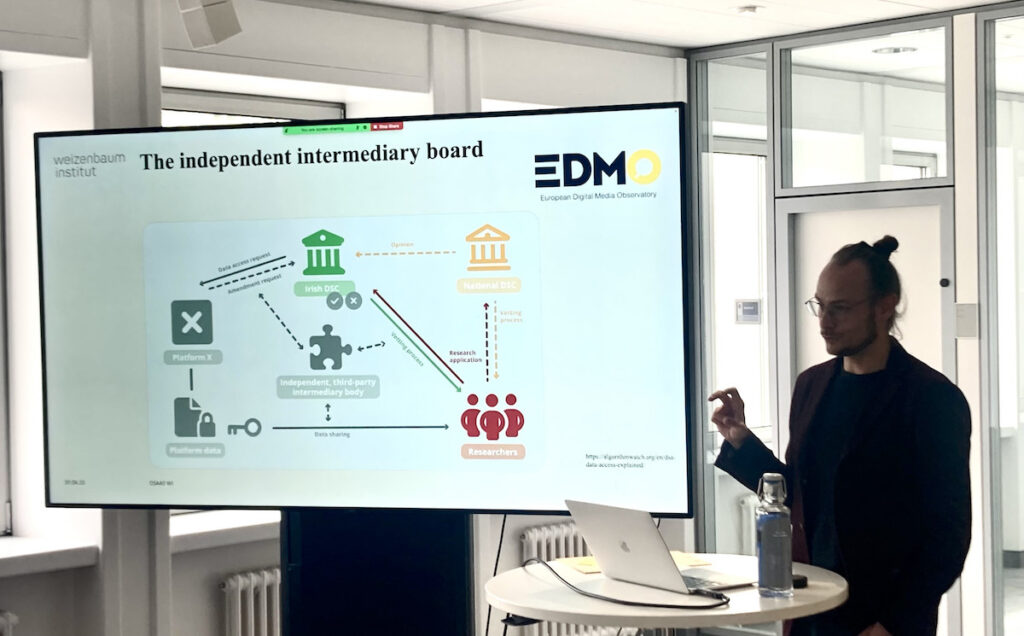 This edition of the Thursday Lunch Talk Series shed light on several key aspects of Article 40, emphasizing the opportunities and challenges it could create for researchers' access to platform data in the future. While some details, such as the data vetting process, remain uncertain, the presentation sparked valuable discussions, highlighting the complexities and considerations involved in what lies ahead for platform providers, researchers, and lawmakers in navigating our digital landscape.
Food for thought!